A Gallery Of Patti LaBelle GIFs Because They Exist  was originally published on hellobeautiful.com
1. Patti "In Da Club"
2. Patti Kicks!
3. Patti Makes Executive Decisions
4. Patti Touches Herself
5. No Really. Patti Touches Herself!
6. Patti Luxuriating Before "Da Club"
7. Patti Says Nevermind Child
8. Patti Line Dances
9. Patti Doesn't Approve
10. Patti Twerks?!
11. Patti Be Waltzing
12. Patti Gets Jiggy With It
13. Patti Snaps
14. Patti Puts You In Your Place
15. Patti References Herself
16. Patti Checks Up On You
17. Patti Lets You Know What She Has Time For
18. Patti Has Zero F*cks To Give
19. Patti Plays Coy
20. Patti Wondering About Your Wardrobe Choice
21. Patti Shows Her Courage
22. When Patti Is Snubbed
23. Patti Prepares To Take Off Into Flight
24. Patti Doesn't Like Your Voice
25. Patti Loves To Pretend She's A Bird
26. Patti Gives Props Where Props Are Due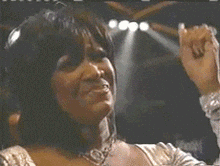 27. When Patti Covers The Shade
28. Patti Finds Out That Louboutins Are BOGO!